Best SAT Test Prep Courses and Tutoring in Prague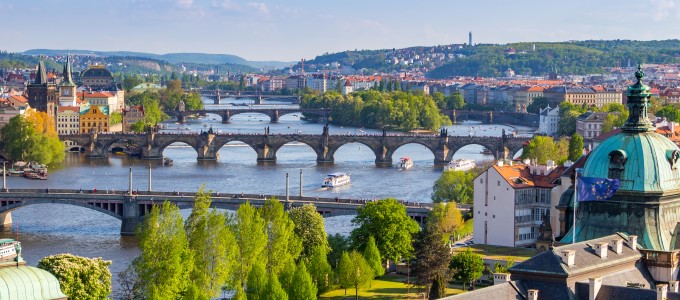 Prague students can effectively and efficiently prepare for the SAT with Manhattan Review's preparation services. Our SAT learning plans in Prague include on-site SAT prep courses, SAT virtual classroom instruction in online interactive format, one-on-one SAT tutoring, and SAT practice tests. In the years since we offered our first test prep courses in 1999, Manhattan Review has grown into the world's leading international test prep company, and thousands of students have boosted their SAT scores and university admission prospects through our teaching. Our SAT courses have been completely revised and updated for the new SAT in 2016, ensuring that our students receive the most current and relevant SAT instruction available anywhere. Manhattan Review's Prague SAT tutors and classroom instructors are the best test prep educators in the city, and they all have strong records of producing successful results for local students. Get started today on Prague's most rigorous and comprehensive SAT prep with Manhattan Review.
High SAT scores can significantly strengthen college applications. Princeton University, for example, received over 29,000 applications and offered admission to about 1,900, for an overall acceptance rate of 6.5%. Applicants with SAT scores of 2300 or higher were admitted at nearly twice this rate (12.8%). The odds of admission are actually more favorable for high-scoring applicants than for students with perfect 4.0 GPAs (the rate is 9.4% for the latter). Among members of the most recent first-year class for which data are available, 73% submitted SAT scores with their applications. The middle-50% SAT scores of these new Princeton students were 690-790 critical reading, 710-800 math, and 700-790 writing. Princeton accepts very few students with SAT scores below 600 on any section (less than 3% of the class), and this institution accepted no students with sectional scores below 500. Regardless of your preferred college or university, the odds of acceptance are much greater with high test scores, which can be attained with professional instruction.
Manhattan Review's SAT offerings have helped countless students get accepted to their first-choice undergraduate degree programs. Our SAT clients have been successfully admitted to Harvard, Princeton, Stanford, Yale, Cornell, the University of Pennsylvania, UC Berkeley, the Massachusetts Institute of Technology, Columbia, the University of Virginia, Dartmouth, the University of Chicago, the California Institute of Technology, Carnegie Mellon, Johns Hopkins, Georgetown, the University of Michigan, Brown, New York University, the University of California-Los Angeles, the University of North Carolina-Chapel Hill, and many more. A number of firms in Prague have hired our former test prep clients, including CETIN, Ahold Czech Republic, Mafra, Czech National Bank, and Vodafone Czech Republic. Our past students have also been hired by Fortune 500 companies, such as Lockheed Martin, JP Morgan Chase, Express Scripts Holding, Walgreens Boots Alliance, and Valero Energy. Start working toward your own future success today with Manhattan Review's SAT prep services in Prague. Contact us by phone, email, or online for details on our course options, course schedules, and any other information you require.

He was able to break down difficult material. I was able to destruct and master the basic things I would need to get a good score on the SAT.
- Sade Catlyn (This student took our SAT preparation course)
Prague
Primary Course Venue:

Prague Marriott Hotel
V Celnici 8
110 00 Praha 1, Czech Republic

NOTE: We do NOT typically have staff at the venue, so email us before visiting the venue.
Meet a Prague SAT Tutor: Teri I.
Teri I. graduated in the top 5% of her high school class and received SAT scores in the top 1% of all test-takers. She received several scholarship offers, and chose to complete her undergraduate education at Columbia University. After finishing her bachelor's degree in education, she then enrolled in a graduate program at Columbia University Teachers College, earning a master of arts in instructional technology and media.
Teri has been teaching SAT prep courses and private tutoring in Prague since 2013, and she was an SAT teacher in New York City from 2009 to 2013. Her SAT instruction has helped numerous students get accepted to highly selective public and private universities. Originally from Burlington, Vermont, Teri is a devoted fan of the New England Patriots and Boston Red Sox. She recently became engaged, and plans to get married in a small ceremony in her home town next year.