GRE Private Tutoring in Prague (Czech Republic)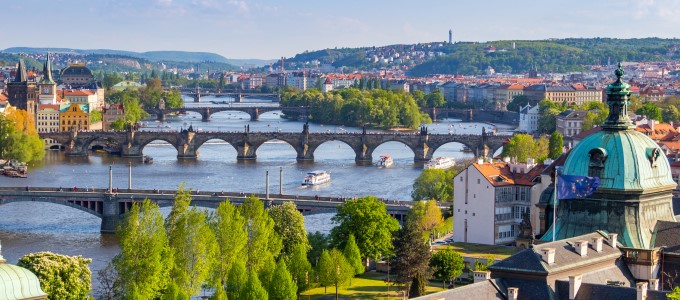 Manhattan Review is an international educational services company that has been teaching students around the world how to master standardized tests since 1999. We offer several preparation options for the Graduate Record Examination (GRE) to Prague students considering graduate school in English-speaking countries. On-site options include group GRE classroom instruction or private GRE tutoring, either of which can be taken at convenient locations in Prague. We also provide online GRE prep courses, which allow students to work on their GRE skill development from any location. All GRE learners benefit from our GRE practice tests, which help students become familiar with the test, identify weaknesses, and build testing endurance. Manhattan Review is the world's most innovative international test prep company, and all our GRE prep options feature Prague's most qualified instructors implementing high-quality course content with cutting-edge instructional methodologies and rigorous course materials. Start preparing for graduate school today with Manhattan Review's GRE prep courses, GRE private tutoring, and GRE practice tests in Prague.
High GRE scores substantially increase the impact of graduate school applications. Manhattan Review's GRE clients have been accepted to graduate degree programs at top universities such as Harvard, the Massachusetts Institute of Technology, Princeton, Yale, Stanford, the University of Chicago, Carnegie Mellon, Dartmouth, Columbia, the University of Michigan, UC Berkeley, the University of Virginia, Duke, Georgetown, Oxford, Cambridge, King's College, the University of Edinburgh, and the University of London. Professional accomplishment is also typical of former Manhattan Review students, who have been hired by the best companies in the United States and in Prague. Some of our past students now work for Fortune 500 companies, including Massachusetts Mutual Life Insurance, United Technologies, World Fuel Services, Lockheed Martin, and United Continental Holdings. Others have accepted positions with prominent firms in Prague, such as Metrostav, LEO Express, Czech National Bank, Cinema City Czech Republic, and Kenvelo. Learn more about how Manhattan Review's Prague GRE prep services can help improve your prospects by contacting us right away.
The GRE is used to evaluate graduate school applicants from many different academic disciplines, and for this reason it is difficult to make general statements on the GRE standards at universities. Programs in the sciences tend to expect higher quantitative scores. The John A. Paulson School of Engineering and Applied Sciences at Harvard University reports that successful graduate applicants scored in the 90th-95th percentiles on GRE quantitative, which matches a score range of approximately 166-168. The GRE verbal averages for these students were much lower, at about 157-158. Graduate degree offerings in many liberal arts disciplines, on the other hand, are more concerned with the GRE verbal score. Admitted PhD students in the Department of English at Northwestern University received a mean GRE verbal score of 166. The average GRE quantitative score for a Northwestern PhD student in English is 151. In many cases, more weight is given to whichever GRE section is most relevant for the degree program in question, but applicants can improve the odds of acceptance by receiving above-average scores on the ostensibly less relevant portion of the GRE.
GRE Private Tutoring
Hours package 12 to 48 hours, Personalized 1-on-1 Tutoring, In Person or Live Online
GRE Private Course
12 hours in total, Personalized 1-on-1 Course, In Person or Live Online

I wanted to thank you for teaching my class and being such a dedicated instructor. When I first started studying for the GRE I was doing it from complete scratch as I had not done this type of math in many years. I was scoring in the low 300's, and was having trouble with some of the quick math necessary to do well on the test. Our class helped me figure out how to break down problems into commonly found concepts and to quickly do the computation to answer them (by, for example, factoring). I took the GRE this past Friday and scored a 720 in math -- much higher than I had originally hoped for when I started studying. I know your going the extra mile to help, both in tutoring and in class, really made a difference to my score. Thanks again!
- Puja (This student took out GRE Tutoring)
Prague
Primary Course Venue:

Prague Marriott Hotel
V Celnici 8
110 00 Praha 1, Czech Republic

NOTE: We do NOT typically have staff at the venue, so email us before visiting the venue.
Meet a Prague GRE Tutor: Maynard A.
Maynard A. has been teaching GRE prep for more than 10 years. He began his career as a GRE tutor and classroom instructor in 2006 while in graduate school. First hired by Manhattan Review in 2011, he has been one of the most effective members of our Prague team of GRE tutors since 2015. He has prepared almost 1,000 students for high GRE scores and strong graduate school applications.
Maynard is a graduate of the University of Minnesota (bachelor of arts in communications) and Louisiana State University (master of education). He is an experienced secondary school teacher, and is currently an English teacher at an international school in the Prague area. Originally from Madison, Wisconsin, Maynard spends much of his free time staying in touch with his family and friends back home.