Best ACT Test Prep Courses and Tutoring in Prague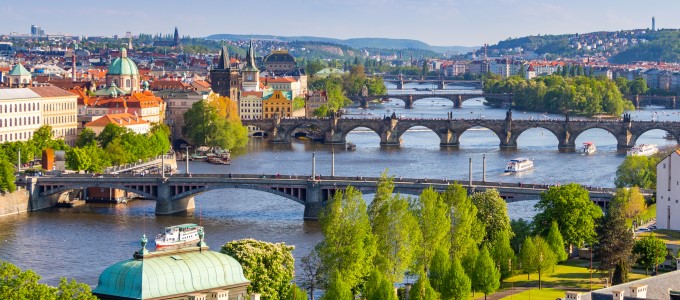 Manhattan Review, an international test prep company founded in 1999, offers several effective preparation services for the ACT. We offer ACT prep courses of the traditional brick and mortar variety, which can be taken at convenient times and locations in Prague. Our ACT classroom instruction is also available in online interactive format, which allows Prague students to attend class from anywhere with an internet connection. Another option is our Prague ACT private tutoring, which features customized one-on-one learning. Whichever mode of educational delivery you choose, our ACT practice tests will help develop your ACT skills and study plans. Manhattan Review has taught students all over the world how to develop fluency with all ACT exercises, how to craft optimal study plans, and how to use favorable test-taking strategies to improve performance. Thousands of our past clients have received the ACT scores required or expected by selective universities. Manhattan Review in Prague is your path to university acceptance.
By facilitating high test scores, Manhattan Review has helped thousands of students prepare for the future. Our clients have become undergraduate students at many of the most selective colleges and universities in the world, including the Massachusetts Institute of Technology, Harvard, Princeton, Johns Hopkins, Columbia, the University of Pennsylvania, Yale, Dartmouth, Stanford, the University of Chicago, and the California Institute of Technology. High starting salaries are typical for graduates of these institutions, with the potential for substantial lifetime earnings. Former Manhattan Review students have accepted prestigious and well-paid jobs at Fortune 500 companies such as Dow Chemical, World Fuel Services, Bank of America, Prudential Financial, JP Morgan Chase, Enterprise Products Partners, and Massachusetts Mutual Life Insurance. A number of Prague firms have also hired our past test prep clients, including Cinema City Czech Republic, CS Link, Czech National Bank, O2 Czech Republic, and Ahold Czech Republic. Find out more about how Manhattan Review in Prague can help you start working toward a successful future by contacting us today.
The ACT has become a much more popular assessment in recent years, and it is now taken by more students than the SAT. Although applicants to highly selective universities still show some preference for the SAT, the ACT is now widely submitted by these students as well. At Georgetown University, for example, just 17% of the freshman class for the 2001-02 academic year chose to take the ACT. By 2015-16, this number had nearly tripled, to 47%. Score expectations have grown with the overall number of test-takers. Middle-50% ACT scores for new Georgetown students were 28-32 composite in 2001-02 and 30-34 in 2015-16. Today, the most selective universities in the United States generally have average ACT scores of 30 or higher, including Harvard (33.5), Princeton (33), Stanford (32.5), Columbia (32.5), and Dartmouth (32). With the high degree of competition in university admissions, students must take advantage of every opportunity to gain an advantage. Manhattan Review's ACT prep courses, ACT private tutoring, and ACT practice tests help Prague students stand out from the crowd.
Prague
Primary Course Venue:

Prague Marriott Hotel
V Celnici 8
110 00 Praha 1, Czech Republic

NOTE: We do NOT typically have staff at the venue, so email us before visiting the venue.
Meet a Prague ACT Tutor: Judd O.
Judd O. has been teaching ACT prep in Boston, New York, and Prague since 2009. He holds a bachelor's degree in mathematics from the University of Maryland and a master of arts in teaching from Rice University. A native of Cleveland, Ohio, he has been living in Prague since 2016. Previously a high school math teacher in the New York City area, he is now a private math tutor when he isn't busy with ACT prep.
According to his student evaluations, Judd is a highly effective teacher of ACT math skills, but he also excels in building ACT verbal abilities. His Prague ACT students have been accepted to a number of elite universities in the United States, including major research institutions, world-class private schools, and selective liberal arts colleges. His favorite leisure activity is following his hometown Cleveland Indians baseball team.